(1) Posted by Joost de Heer [Saturday, Mar 12, 2022 21:46]
Merry-go-round

I'm sure this has been done before but I couldn't find a direct anticipation in Winchloe. Does anyone know of another example of this merry-go-round in two directions?

Joost de Heer, facebook original (published on my chess/draughts page https://www.facebook.com/joostdeheerdammen)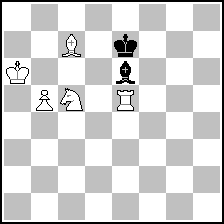 (= 5+2 )



ser-h=21

(2) Posted by Michel Caillaud [Saturday, Mar 12, 2022 23:21]

Pierre Tritten, Michel Caillaud 2nd Prize StrateGems 2009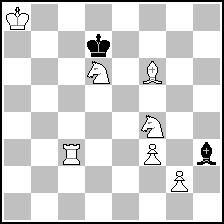 (= 7+2 )



ser-h=42

I am sure there are other examples, but I remember this one better...

(3) Posted by Arno Tungler [Sunday, Mar 13, 2022 11:14]

Most of the examples that I know are "real" merry-go-rounds with a full circle of the two black pieces but those two are of the other sort like the one quoted by Michel.

Erich Bartel
836 Ajedrez Magico 11/1970
Commendation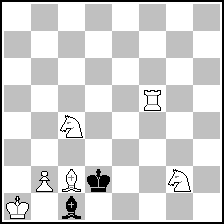 (= 6+2 )



Ser-h#26

Knud Harald Hannemann
Stella Polaris 1967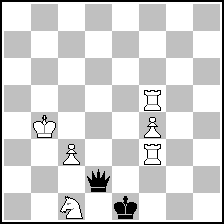 (= 6+2 )



Ser-h#32

Here the circle is a bit extended.

(4) Posted by Joost de Heer [Monday, Mar 14, 2022 10:49]

Thanks, Michel and Arno. Looks like my composition is mostly anticipated by Michel/Pierre's composition.

A version with a double full circle by the black bishop is possible, but it needs one extra white pawn.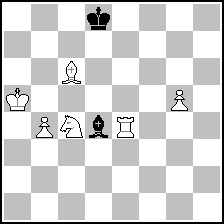 (= 6+2 )



ser-h=24

---
No more posts
MatPlus.Net

Forum

Fairies

Merry-go-round