(1) Posted by Uri Avner [Saturday, Oct 21, 2006 16:03]; edited by Uri Avner [06-11-05]
Evil spirits

Andrey Selivanov's S#3 from the "Show me your problem" section reminds me of the following S#2 which keeps haunting me from its first day of appearance, yowling at me: "unfinished business, am I not?"
To translate this into a concrete question: can the idea be shown without the Zeroposition?
A "normal" twin should do the trick, not to speak of a simple try (or set) & solution.
Could anyone make the evil spirits go away?

Yochanan AFEK
Uri AVNER *
Die Schwalbe 1982
3rd Prize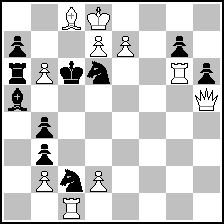 (= 10+10 )



s#2
Zeroposition
a) +WPa4
b) +BPb5

a)
1.d3!
1…Kxb6 2.Qc5+ Kxc5# (A)
1…Rxb6 2.Qb5+ Rxb5# (B)
1…axb6 2.Bxa6 b5# (C)
b)
1.d4!
1…Kxb6 2.Qxb5+ Kxb5# (B)
1…Rxb6 2.Ba6 R~# (C)
1…axb6 2.Qc5+ bxc5# (A)

* Order of names above the diagram has been swapped by Administrator after the request by author of this post.

(2) Posted by Miodrag Mladenović [Sunday, Oct 22, 2006 19:56]; edited by Miodrag Mladenović [06-10-22]

Hi Uri,

Because of the complexity of the scheme it's very hard to imagine that it's possible to find position without zero position. The best position that I found without zero positions is: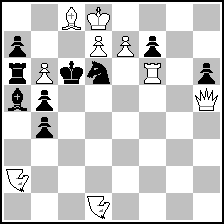 (= 9+9 )



a) diagram
b) -bPb5

a) 1.Ng7!
b) 1.Ndc3!

Of course this change a genre I am sure this is not what you expected but anyway I decided to reply. This may help somebody to come up with an ortodox version without zero position twin.


(3) Posted by Ion Murarasu [Sunday, Oct 22, 2006 22:42]

Miodrag , in diagram position bPf7 is not necessary. In b) works bPb5->f7.

(4) Posted by Uri Avner [Wednesday, Nov 1, 2006 00:39]

Hi Misha,
Thanks for trying. This, evidently, is not exactly what I had in mind, but it serves to show how close the orthodox position is to the possibility of a "regular" twin. Not much is needed, and yet...

(5) Posted by Yochanan Afek [Thursday, Apr 12, 2007 23:21]

Sorry for the late response (I have just joined as a member): Another evil spirit should wonder: was it the original order of composers above the diagram? apparently not and not without a good reason.

(6) Posted by Uri Avner [Friday, Apr 13, 2007 01:38]; edited by Uri Avner [07-04-13]

To shake off at least certain spirits, I have no problem to switch names.

(7) Posted by Yochanan Afek [Tuesday, Apr 17, 2007 00:15]; edited by Yochanan Afek [07-05-04]

Matter settled

---
No more posts
MatPlus.Net

Forum

Promenade

Evil spirits