(1) Posted by Steven Dowd [Friday, May 16, 2008 21:01]
The Wagner move

In the latest Schwalbe, J. Kratz discusses the Wagner move - a check provocation with a queen promotion. He notes he knows of no mate problem using the move.

Is this the first?

CS Kipping
Manchester City News 1911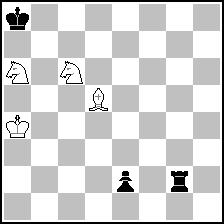 (= 4+3 )




#3

I find this (idea,theme, move) quite interesting. Do posters know of any more?

(2) Posted by Vladimir Tyapkin [Friday, May 16, 2008 21:13]

Loyd's 'Steinitz Gambit' comes to mind.
http://www.chessbase.com/puzzle/puzz04c.htm

(3) Posted by Michael McDowell [Friday, May 16, 2008 21:17]

Loyd's "Steinitz Gambit" three-mover (1st Prize, Checkmate Ty 1903) would seem to be the obvious predecessor.

(4) Posted by [Friday, May 16, 2008 21:35]; edited by [08-05-16]

I probably haven't understood the nub of it, as this appeared in the
first source I checked (Theory of Pawn Promotion, what else?)

J. P. Taylor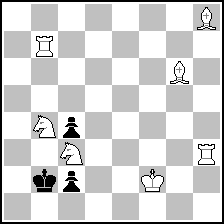 (= 7+3 )



#2
3rd pr. English Mechanic, 1891-01-16

Not being a subscriber to Schwalbe (too modern ... :-), is there
an example that might clear it up?

(5) Posted by Vladimir Tyapkin [Sunday, May 18, 2008 04:09]; edited by Vladimir Tyapkin [08-05-18]

Here is a less known problem by Vladimir Savchenko. He published a series of moremovers with Loyd's "refuse to capture" idea in the 60-70ss. He presented it in the form where white refuses to capture black queen repeatedly.

Vladimir Savchenko
Chess Moscow, 1970
1 prize

(= 13+12 )



#8

1.Rd1? Sd2 2.Rd2 h1Q+!
1.0-0-0! ab2+ 2. Kc2! (2.Kb2? Qb8+, 2.Kb1? Sd2+) b1Q+ 3. Kc3! Qb2+ 4. Kd3! Qe2+ 5. Ke2 f3+ 6. Ke1 Sd2 7. Sd7 Ke4 8.Bc2#

(6) Posted by Steven Dowd [Monday, May 19, 2008 20:55]

I think Kratz meant only Kh3/a3 h1Q+/a1Q+ versus Kg3/h3 h1S+/a1S+.

Vladimir, that is a nice example because every player like me wants to check and take the queen. :)

I wonder how long white has held out to a promoted queen? That is how many queen checks until white must finally capture and/or lead up to the mate? I was able to come up with a dualized end mate and seven queen checks, including the initial promotion, but it wasn't much of a problem yet.

(7) Posted by Jan Hein Verduin [Friday, May 30, 2008 10:52]

Let's not forget this classic:

A. Krämer
1st prize Römmig MT
1954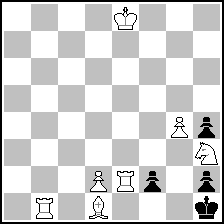 (= 7+4 )



±3

---
No more posts
MatPlus.Net

Forum

Promenade

The Wagner move