(1) Posted by Ian Shanahan [Wednesday, Nov 10, 2010 07:14]
New Australian chess-problem website

A new Australian chess-problem website - the first ever? - has just opened at:

http://www.ozproblems.com

I invite everybody to explore it (and Milan to add it to the Links)! Peter Wong is the webmaster. The site includes profiles of various Australian problemists, explanatory articles for beginners (all written by Peter) and many downloads of Australian chess-problem material - as well as many links. Further articles will be added in future. All of us "Down Under" hope you all enjoy our new venture.

(2) Posted by Dan Meinking [Wednesday, Nov 10, 2010 16:19]

Outstanding! I only visited briefly, but it looks terrific. Hope to spend more quality time there soon. :-)

(3) Posted by Siegfried Hornecker [Wednesday, Nov 10, 2010 17:00]; edited by Siegfried Hornecker [10-11-10]

Ian, do you know you can add links? You click on "Links" and then in the top right corner (that is hard to see if you don't know it is there because you don't expect it) there is a link to add a new link.

So I feel free to add your website.

EDIT: Oops, Milan had already added it. Maybe he can delete my link then (I can't).

(4) Posted by Ganapathi Ramaswami [Friday, Nov 12, 2010 10:31]

Just the site for composers like me who want to improve, what with a fund of problems!
Wish Fairies also is taken for treatment if not already contemplated.
Ganapathi

(5) Posted by Ian Shanahan [Friday, Nov 12, 2010 17:24]

Thanks for that Ganapathi. I imagine that the focus will be on fairly orthodox problem-types for the time being, since one of our main goals is to attract beginners. But by all means make that suggestion to Peter Wong. (Peter, Geoff and I are all Fairy enthusiasts, after all.)

(6) Posted by Marjan Kovačević [Thursday, Nov 18, 2010 18:04]

Congratulations to all for the excellent looking website! Long ago, I read the impressive book about Bill Whyatt. Could it be found in electronic form?
Ian, its a good news you are preparing a collection of Valladao series problems. Perhaps you don't have the following example by the Serbian composer Boško Nikić (15.06.1934-8.5.2010), with Excelsior as a related addition to the main combination:
Boško Nikić
1.HM Mat 1974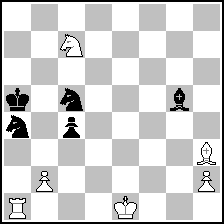 (= 6+5 )



ss#13
1.Bf5 6.h8S 8.Sf4 9.0-0-0 10.Bb1 11.Kc2 12.Sfd5 13.b4+ cb3#

(7) Posted by Ian Shanahan [Friday, Nov 19, 2010 01:59]; edited by Ian Shanahan [10-11-19]

Many thanks for your kind remarks, Marjan. I don't think Bob Meadley's book on Bill Whyatt is available electronically - yet. But I'll certainly talk to him about remedying that situation and adding it to our website.

Regarding the 1974 series-mover Valladao problem that you quote, I was already aware of it, thanks. Interestingly, on the very manuscript sheet where I recorded my own 1997 example which you obviously saw on the website, I wrote (about my problem) "This is the only series-mover Valladao theme example I know with 0-0-0; all others have 0-0".*
* [Footnote added sometime later, in red ink] "The following has since come to light: [the Nikić example] Critical play + self-blocks".

Mark Ridley and I still intend to proceed with our project; but neither of us is in the best of health.

(8) Posted by Boško Milošeski [Sunday, Nov 21, 2010 00:57]

Valladao Task!

(9) Posted by Geoff Foster [Thursday, Jan 13, 2011 22:43]

The site now contains material from Bob Meadley's book "W.A. Whyatt's Chess Problems". There are 55 problems and also an article on "The Life of Bill Whyatt". More problems and articles will be added in the future.

(10) Posted by Marjan Kovačević [Thursday, Jan 13, 2011 23:14]

Thanks for this, Geoff!

(11) Posted by Geoff Foster [Thursday, Jan 20, 2011 22:13]

The site now contains "The Whyatt/Goldstein Partnership" by Alexander Goldstein. The article has all 19 of the joint Whyatt/Goldstein problems. For each problem I didn't know which composer to put first, so if anybody has access to the original sources I would be glad to have this information.

(12) Posted by seetharaman kalyan [Saturday, Feb 26, 2011 18:54]

I warmly recommend this to everyone. Being a newcover to that genre I liked especially the lucid and instructive two pages explaining in simple language the intricacies of SPG or Proof Games. Thanks to Peter Wong.

---
No more posts
MatPlus.Net

Forum

General

New Australian chess-problem website