(1) Posted by Michael McDowell [Wednesday, Oct 5, 2011 22:07]
Cooked Pugachev

S.Pugachev
2nd Prize, All-Russia Tourney 1979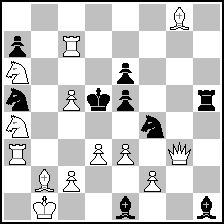 (= 13+9 )



Mate in 3

1.Qg4 (>2.Bc3)

1…Rh6, Rf5 2.Rc3
1…Rh7 2.c3
1...e4 2.Qg7
1...Be4, Sc4 2.Bxe6+

When the problem was quoted in The Problemist in 1980 solver Jim Hetherington pointed out a cook by 1.Bc3 Sxd3 2.cxd3, so it is strange that the problem features (unamended) as No.304 in Jakov Vladimirov's 2007 collection of Russian Threemovers.

Can the cook be eliminated?

(2) Posted by Geoff Foster [Wednesday, Oct 5, 2011 23:08]

Cooked Pugachev sounds delicious, but you didn't give the recipe.

(3) Posted by Mikalai Sihnevich [Wednesday, Oct 5, 2011 23:20]

See corrected version here:
http://www.yacpdb.org/?id=299723

And discussion on ru_chess_art in 2010:
http://ru-chess-art.livejournal.com/16843.html

(4) Posted by Michael McDowell [Thursday, Oct 6, 2011 17:10]

Cured Pugachev, as served up by Mikalai, is even better!

Many thanks.

---
No more posts
MatPlus.Net

Forum

Threemovers

Cooked Pugachev