Website founded by
Milan Velimirović
in 2006

12:53 UTC
---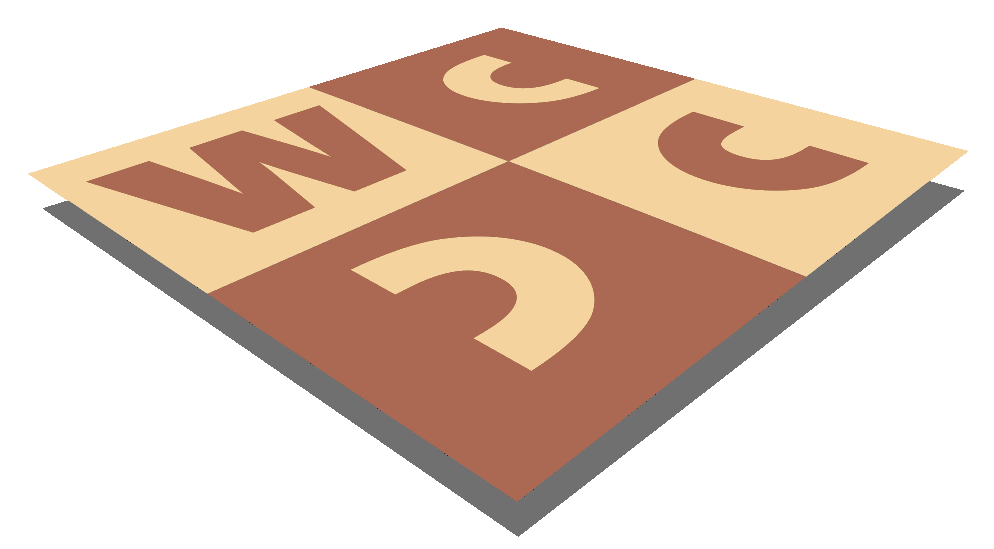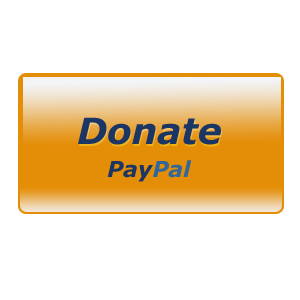 MatPlus.Net

Forum

Twomovers

Finally managed to join, have a mate in two!
You can only view this page!
---
(1) Posted by edderiofer [Thursday, Oct 8, 2020 14:19]
Finally managed to join, have a mate in two!

Now that I finally managed to get my account activated proper, here's one of my own compositions (with help from Peter Wong to reduce flaws and tighten up the position). Mate in two.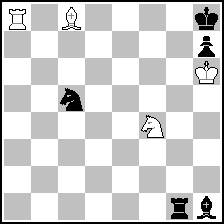 (= 4+5 )




(I'm a fairly novice constructor. At the moment I'm using the Stockfish engine on Lichess to check my problems. I unfortunately have a 64-bit computer so I can't use APWin, and I'm having trouble getting Popeye to give the full lines. Advice on this would be welcome.)

(2) Posted by James Malcom (Rewan Demontay) [Thursday, Oct 8, 2020 15:13]

Welcome edderiofer! I'm glad that you could join us.

As for the mate in two, it's a nice and simple sacrifice and interference. Took me less than a minute to solve it. :-)

(3) Posted by seetharaman kalyan [Thursday, Oct 8, 2020 17:56]

A simple nowotny. Better avoid unprovided check. Wish you good luck. Install Olive a good interface for Popeye, for checking your problems

(4) Posted by Dmitri Turevski [Thursday, Oct 8, 2020 22:55]
QUOTE
Better avoid unprovided check

Indeed. Solvers are smart, and when they immediately see such a strong defense as 1...Rg6+, where there is no obvious response, they focus on it and solve the problem in no time. Therefore such an unprovided check is considered a flaw.
Otherwise, a very nice problem, although the ideas (Novotny interference and Bishop/Knight dominance) are well known.

(5) Posted by edderiofer [Friday, Oct 9, 2020 04:47]

Yeah, I wasn't trying to break ground or make a problem that was too difficult. I'm not overly-concerned with making problems flawless at this stage; my main concern is just making problems, preferably easy ones for other novice solvers, and I therefore think it's fine to have a flaw in a problem aimed at that difficulty (and you might be surprised at the number of people I've shown this to who've missed that reply and think that the correct first move is Ng6+). However, I'm definitely more pleased with this one (due to the added bishop-knight dominance) than the original implementation of this Novotny:


(= 4+5 )




By the way, how does one quote a forum post? How does formatting in general in this forum work?

(6) Posted by Andrew Buchanan [Friday, Oct 9, 2020 08:22]

Oops I didn't see your reply.

Welcome edderiofer!

Folk have been making directmates for 150 years, and the frontiers for novelty are far advanced, particularly for #2 genre. I suggest that you start solving lots of problems, old and new, and make sure you understand why every piece is present. Probably you will pretty soon find that you are improving some of them, or fixing cooks! The fashion has also moved on from classic themes such as Novotny. Even experienced composers find it's difficult to get such old-school problems published.

In your initial schema here, I'd agree the unprovided check is really glaring. If you can find a harmonious fix for that, shifting wK so any new blocking units also play an active in the solution, that could be quite interesting. Currently the problem is just too simple, and it's often a defect in a simplistic problem which is the spur to adding the complexity necessary to make the problem interesting.

Apart from that, bPh7 can currently be removed if you shift wS to e3. If you audience is people who solve tactical puzzles then maybe they will be fooled for just a moment by 1. Sg6+? but tactical problems are a different niche. More elementary chess problems (but not tactical puzzles) are welcomed at "The Problemist Supplement" - maybe look at their level.

Olive is truly wonderful. It automatically sets the Popeye option variations, which is what you need to see the details of a solution rather than just the keys. Why is vari not the Popeye default? I don't know, but I bet that many eager novices are stymied by this gotcha.

Cheers,
Andrew

(7) Posted by Steffen Slumstrup Nielsen [Friday, Oct 9, 2020 10:29]

You first diagram would actually as a finale of a study as well, as 1. Ng2 is the only winning move!

(8) Posted by Hauke Reddmann [Friday, Oct 9, 2020 11:27]

Welcome edderiofer!
If you want also some unwanted tips from me... :-)

As a novice, unless you are a super talent, don't even
think of finding something original. (From my old
problems I made for my chess club 40 years ago,
50% are anticipated, 50% are cooked and 50% are baaaad.)
Indeed you should train your constructive abilities
first. (Which, from personal experience, works best
by regularly studying the work of others.)

Always be on the alert when it comes to potential ideas.
Your problem immediately gave me one: so what if
Rg6+ is no threat? Obviously then the battery will
mate in 2, so we can forget that. OK, harmony
dictates anyway that the bishop has a check too.
Fine, just fiddling with the possible matrices,
geometry already fixes the position of KS/KBR.
Now it is further obvious that any Nowotny will
threaten both mates now, so we automatically have
a key and a try if another piece can move to
the intersection. As it stands, moving the S to the
Nowotny field best works with two line openings
threatening two other Nowotny mates.
Further, we get a nice subtle defense thrown at us
by Caissa, so let's go with that and troll all
those solver know-it-alls a bit :-)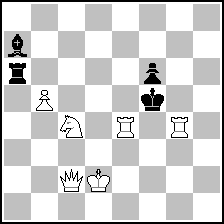 (= 6+4 )




So, b6 or Sb6? I recalled my composition process
in gory detail so you might learn from it, actually
the whole process took me about ten minutes of pure
instinct, but then, I do this since 40 years
and I'm the Wizard of Speed and Time :-)

Hauke

(EDIT: Saved another piece :-) Also a bit more
cooktries.)

---
No more posts
MatPlus.Net

Forum

Twomovers

Finally managed to join, have a mate in two!