(1) Posted by Siegfried Hornecker [Thursday, Jun 21, 2007 13:55]; edited by Siegfried Hornecker [07-06-22]
Jaques Fulpius, SSZ 1971 + 1973

Dear chess friends,

today I received "Schweizerische Schachzeitung" of June 2007. On p.33 I read the Geneve composer Jaques Fulpius has passed away in March at the age of 74. He was a friend of André Chéron and one of the first to reprint the first Babson [1] I'd like to show two of his problems here. Have fun solving!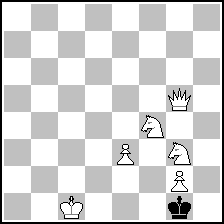 (= 6+1 )



Jaques Fulpius
SSZ 1971 / Winterthur solving tournament
Mate in 3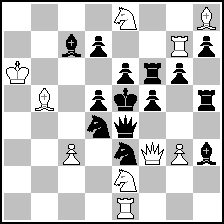 (= 10+14 )



Jaques Fulpius
SSZ 1973
Dedicated to André Chéron
Mate in 3


[1] http://chessproblem.net/viewtopic.php?t=41


@Thomas Maeder: Sorry for the inconvenience. It seems to be fixed.

(2) Posted by Zalmen Kornin [Friday, Jun 22, 2007 01:03]

Although the worst new about a person, we have to thank You, Siegfried, for the information and for the display of his compositions - 55 others are on-line here http://www.softdecc.com/pdb/search.pdb searching in this way: press Home, write A='Fulpius'

(3) Posted by Siegfried Hornecker [Friday, Jun 22, 2007 04:10]; edited by Siegfried Hornecker [07-06-28]

The complete obituary by Martin Hoffmann is available at http://www.schachbund.ch/presse/ssz/2007/ssz6.pdf (p.33) soon (maybe in one or two months).

Edited ("by", not "of")

(4) Posted by Thomas Maeder [Friday, Jun 22, 2007 17:58]

Adminitrator: please fix topic title to Fulpius (p, not b). Thanks!

---
No more posts
MatPlus.Net

Forum

Threemovers

Jaques Fulpius, SSZ 1971 + 1973