(1) Posted by Miodrag Mladenović [Sunday, Mar 13, 2011 07:03]
5 Years Anniversary (August 28th 2011)

August 28th is the five years anniversary of this site. I think some composing tournament should be organized to mark this date (Mat Plus JT 5). I do not know what opinion of other problemists is but personally I think that this site is something best that happen in chess problems community in last decade. Jubilee Tournament may be good way to advertise this site.

(2) Posted by Dan Meinking [Monday, Mar 14, 2011 04:17]

I second the motion!

(3) Posted by Ian Shanahan [Monday, Mar 14, 2011 14:01]

And I third it!

Thank you so much Milan (and Misha too, for the JT idea): matplus.net is a fantastic gift to the chess-composition world. My life would be much the poorer without it.

(4) Posted by Hauke Reddmann [Monday, Mar 14, 2011 18:48]

<AOL>. Suggestion: problems of any kind of any relevance
to an internet meme. (Maybe a one-in-a-million recaptcha
giving the theme? All hail Inglip :-)

This here just wants a stipulation:
http://3.bp.blogspot.com/_Q0lTtPVTG40/SFrS3c99doI/AAAAAAAAPp0/FgDjMU__unU/s400/This_Is_Sparta_And_Chess.jpg

Hauke

(5) Posted by Dan Meinking [Tuesday, Mar 15, 2011 08:02]; edited by Dan Meinking [11-03-15]

Might I offer a theme suggestion?

"Helpmates in 2½-n with the following sequence:

(1) a unit X moves to an empty square Y
(2) X vacates Y
(3) a Pawn of the same color as X promotes on Y"

Here are a couple of examples (thematic moves in bold):

Fadil Abdurahmanovic, 3rd Prize, Die Schwalbe 2004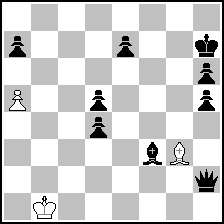 (= 3+9 )



h#5½ (3+9) C+
1...Bb8 2.Qc7 a6 3.Qb7+ axb7 4.Kg6 Bh2 5.Kg5 b8Q 6.Kh4 Qg3#

DM-scheme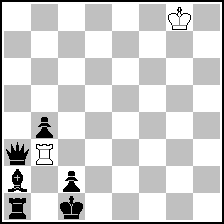 (= 2+6 )



h#5 (2+6) C+
1.Kd2 Kf7 2.Qc1 Ke6 3.Qe1+ Kd5 4.Rd1 Kd4 5.c1S Rb2#

I haven't composed a decent Helpmate in years, so perhaps I could better serve as a judge?

(6) Posted by Siegfried Hornecker [Tuesday, Mar 15, 2011 11:55]

I especially like Fadil's helpmate with mixed Bristol and another reversed Bristol on the same diagonal.

A study tourney should also be held for MatPlus JT. Maybe something with theme "logic", which is broad enough for rich compositions.

(7) Posted by seetharaman kalyan [Tuesday, Mar 15, 2011 19:40]

Fadil surprises and amazes everytime !

(8) Posted by Dan Meinking [Wednesday, Mar 16, 2011 07:21]; edited by Dan Meinking [11-03-16]

@Siegfried & Seetharaman: I agree, Fadil's example is almost too good!

This featherweight shows that X can be a Pawn:

F. Borissenko, Mat 1988 [P0556318] (anticipates P0504989, as noted on PDB)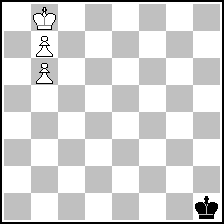 (= 3+1 )



h#5 (3+1) C+ 1.Kg2 Ka7 2.Kf3 b8Q 3.Ke4 b7 4.Kd5 Qe5+ 5.Kc6 b8S# (ideal)

The next one is mildly interesting. If the theme weren't known, the intro might come as a surprise.

DM original, "to the MatPlus Forum 5th" -- early birthday present :-)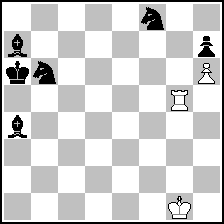 (= 3+6 )



h#4½ (3+6) C+ 1...Rg8! 2.Se6 Rh8! 3.Sg7 hxg7 4.Kb7 g8B 5.Ka8 Bd5#

---
No more posts
MatPlus.Net

Forum

Feedback by Members

5 Years Anniversary (August 28th 2011)