(1) Posted by Darko Šaljić [Wednesday, Feb 5, 2014 16:10]; edited by Darko Šaljić [14-02-05]
Memories of green

I invite anyone who wants to share with us some memories of Milan, his stories,of his friedship, problems ..
I remember this problem, which he showed me on late hours in in a local pub, whan I asked him to show me his favourite threeemover. I was expecting one of his complex masterpieces, and I was surprised... But after only a brief analysis I realized what pearl I have in front of me!

Milan Velimirović
5. Pr Die Schwalbe 1976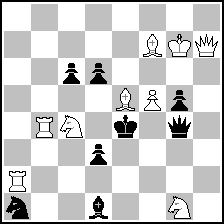 (= 9+8 )



#3

1.Be6! (2.f6 Qf5 3.Qf5#)
1...Qh5 2.Sd2 Ke3/Ke5 3.Sf1/Re4#
1...Qh4 2.Sb2 Ke3/Ke5 3.Sd1/Sd3#
1...Qh3 2.Sd6 Ke3/Ke5 3.Re4/Sf7#

(2) Posted by Eugene Rosner [Wednesday, Feb 5, 2014 17:56]

Wow. Wow. So elegant!

(3) Posted by Steven Dowd [Wednesday, Feb 5, 2014 20:15]

That is amazing. I think in addition to his problem skills, I still remember him as a kind person who corresponded with me, kindly answered all sorts of questions, and once, when it became obvious that there was no expedient way of transferring funds to him, sent me two books for free that I really needed at the time.

Great experts who are also kind and modest and generous are a rare gift, and Milan needs to be recognized for all those things. We were lucky to have him as long as we did.

(4) Posted by Eugene Rosner [Wednesday, Feb 5, 2014 23:03]

can I assume this is in the FIDE Album?

(5) Posted by Kostas Prentos [Thursday, Feb 6, 2014 08:07]

Yes, it is No.259 in the 1974-76 Album.

(6) Posted by Frank Richter [Thursday, Feb 6, 2014 08:08]; edited by Frank Richter [14-02-06]

Yes, Nr. 259.
(too late ....)

(7) Posted by seetharaman kalyan [Thursday, Feb 6, 2014 08:25]

Great problem! Thanks for quoting. Whyatt would have liked it very much. Though the second moves are checking (Whyatt preferred quiet second moves) you cannot see immediately, why the other second moves do not work after each black Q defence. Beautiful inbuilt Zagoruijko. Wonder why it was not awarded a higher prize...

(8) Posted by Jacques Rotenberg [Thursday, Feb 6, 2014 14:05]

The transferred mate, the long black lines, the flight giving 2nd moves as anti-dual effects, are among others beautiful features of this wonderful problem that is both complex and clear-cut.

---
No more posts
MatPlus.Net

Forum

General

Memories of green