(1) Posted by Hauke Reddmann [Tuesday, Jun 20, 2017 17:18]
The perfect Java cycle

D. Stojnic, Schwalbe 2005, 1.Nxd5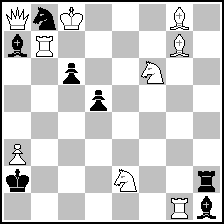 (= 9+7 )



HR Version, 1.Rb7!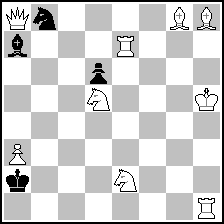 (= 9+4 )



The point of the version is of course to have the Java cycle without any capture, be it White or Black. Had to pay with a lousy key. (Not that the original had a brilliant one... :P) And nobody else had that idea before me in the last 10 years?
Comments?

(2) Posted by seetharaman kalyan [Wednesday, Jun 21, 2017 20:23]

Probably someone thought of it but did not want a flight taking key.

(3) Posted by shankar ram [Thursday, Jun 22, 2017 02:14]

I think Kofman has done this in the 60s.

(4) Posted by Hauke Reddmann [Thursday, Jun 22, 2017 15:45]

He did (and it's a great problem, 31791 YACPDB)...
but I concentrated on capture-free! And none of the
24 problems in the Albrecht collection (first by Segers,
BTW) apply. Thus I asked.

(5) Posted by Nikola Predrag [Thursday, Jun 22, 2017 18:02]

Impure but capture-free thematic variations?
Heinz Lies, Olympic Tourney 1936
2bB2R12s3p2QSbs1k2R4S4p1p7K2B; #2

(6) Posted by Hauke Reddmann [Saturday, Jun 24, 2017 13:28]; edited by Hauke Reddmann [17-06-24]

(deleted - the stupid S guards the thematic field AGAIN,
and I thought I avoided that...)

---
No more posts
MatPlus.Net

Forum

Twomovers

The perfect Java cycle