(1) Posted by Darko Šaljić [Thursday, Nov 9, 2006 08:33]; edited by Darko Šaljić [06-11-09]
(#2) Darko Saljic 1 Pr Yu-2001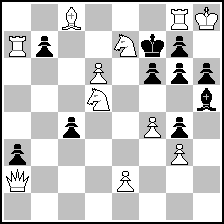 (= 11+10 )



*1...c3 2.Sd~#(2.Se7?; 2.Sf6?)
1...b7~ 2.Se~#(2.Sd5?;2.Sg6?)
1.Sd~? ~ 2.Dc4:#
1... f5!
1.Sf6:!? (~)
1... Kf6: 2.Tf8#
1... gf6 2.Dc4:#
1... b7~ 2.Sed5#
1... g5!
1.Se~? ~ 2.Tb7:#
1... g5!
1.Sg6:! (~)
1... Kg6: 2.Tg7:#
1... Lg6: 2.Tb7:#
1... c3 2.Sde7#
1... f5 2.Se5#
I'm proud on this problem, not only for winning 1st prize on strong national championship, but for the fact that the prize was given by one of the greatest masters ever - the late Hrvoje Bartolovic.
I would like to see what do you think about this problem and one question: can I claim that it showes mutual square vacation of a like white pieces in twomover for first time?

(2) Posted by Frank Richter [Thursday, Nov 9, 2006 21:04]

Dear Darko,

this seems to be a very original matrix and I cannot find any similiar problems in the Albrecht-Degener-Database.
Congratulations!

(3) Posted by Darko Šaljić [Friday, Nov 10, 2006 09:12]

Dear Frank,
thank You for ecouraging words!

(4) Posted by Milan Velimirović (+) [Friday, Nov 10, 2006 11:49]

Frank, can you give us more information about this famous database.
On Udo Degener's "Problemschach" page there is a link
"Datenbank - Albrecht-Sammlung - Albrecht's twomover-collection"
but there we find only a blank page.


(5) Posted by Hauke Reddmann [Friday, Nov 10, 2006 14:19]

Oh yeah, the Legendary Database :-)
It's been announced since about the retirement of
Kaiser Wilhelm :-) but the input collection of course
is a gargantuan task.
My own opinion is that bringing out even a completely
premature version and updating it later would be a
gift to problemkind, but I guess here are completists
at work, and we have to wait another few centuries :-)

Hauke

(6) Posted by Frank Richter [Sunday, Nov 12, 2006 09:48]

Dear Milan,

you may ask Udo for sending a copy on CD. Of course this is a never ending work ...

---
No more posts
MatPlus.Net

Forum

Twomovers

(#2) Darko Saljic 1 Pr Yu-2001