(1) Posted by Hauke Reddmann [Wednesday, Oct 25, 2006 15:04]
H. Reddmann, version of SCHWALBE 6901, h#2

Help- or Selfmate never appealed to me (may because I'm a strong
over-the-board player? :-), here is the only one (non-fairy) h#
I ever made, respectively an improved version that was never
published outside my own webpage.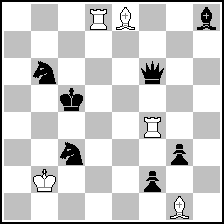 (= 5+7 )




I don't think that I have to give the solution or the theme :-)

Anyone feeling inclined to improve it? When it was first published
in the SCHWALBE, the h# editor received lots of flak for publishing
a h#2 without 2.1.1.1 or twins :-)

Hauke

(2) Posted by Miodrag Mladenović [Wednesday, Oct 25, 2006 18:44]; edited by Miodrag Mladenović [06-11-20]

Very nice idea. In initial position all squares next to bK are either guarded or blocked. After first black and white move all 8 squares are empty and unguarded. Then with next two half-moves (black + white) they are all guarded again. I never saw something like this before. I like this problem more then many others with multiple solutions. This is great idea! Way to go! You should try to compose more helpmates.

(3) Posted by Kostas Prentos [Friday, Nov 17, 2006 20:04]

Misha Mladenovic showed this problem to a group of composers in Warsaw one week ago. We all agreed that it had one of the most original ideas ever shown in helpmates. I don't know if it's possible to implement a second solution, but even with just one line, the editor of Die Schwalbe did very well to publish this problem.

(4) Posted by Hauke Reddmann [Saturday, Nov 18, 2006 17:16]

For the record, it has to be added that it was NOT published
in this form (the Subject: already say so :-)
but Ka7 Rb8 Rh3 Bc7 Bg4/Kc3 Bf3 Qh7 h#2.
So half of the theme is amiss. I improved only later.

Hauke

(5) Posted by Michael McDowell [Monday, Nov 20, 2006 21:05]

There are certain ideas or features that have more value in one genre than another. For example, model mates are of considerably less interest in a helpmate than a directmate.

It seems to me that giving multiple flights in a helpmate is one such idea. There's clearly an element of surprise / paradox in a directmate, where Black is resisting, but the notion of giving a helpful black king ample scope to run away when he doesn't want to hardly excites.

The idea could be summarised as "Give a king 8 flights in 2 half-moves then cover them all again plus the king's square in 2 half-moves." That is an idea for a construction task. The helpmate form is irrelevant - it only means you have to add extra force to ensure soundness.

(6) Posted by Hauke Reddmann [Wednesday, Nov 22, 2006 12:44]

Full ACK. But: If it would be possible in 2#,
someone would have done it long ago :-)

Hauke

(7) Posted by Siegfried Hornecker [Friday, Apr 6, 2007 04:48]

That's simply brillant! But in my opinion there's a small flaw since the white rook returns to it's initial position. It would have been even more great if you could've made it going to another square.

(8) Posted by Miodrag Mladenović [Friday, Apr 6, 2007 08:10]

I do not think that returning of WR to initial square is a flaw. It's adding a value to the problem because it's switchback theme.

---
No more posts
MatPlus.Net

Forum

Helpmates

H. Reddmann, version of SCHWALBE 6901, h#2