(1) Posted by Hauke Reddmann [Monday, Sep 16, 2019 12:30]
Fleck with battery

A terminology question. Fleck, for obvious reasons,
ruled out batteries in his theme. Now observe: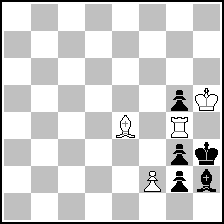 (= 4+5 )



1.Bf5! gxf2/Bg1/g1X 2.Rxg5/Rh4/Rxg3#

R~ is never a threat, there are no random battery moves.
Would you, thus, count this as a Fleck "in spirit"?

(2) Posted by seetharaman kalyan [Monday, Sep 16, 2019 13:14]

yes. I consider it genuine fleck.

(3) Posted by Michael McDowell [Monday, Sep 16, 2019 20:30]

Certainly it's a Fleck.

Where did Fleck rule out battery mates? The chess problem world seems to have decided otherwise. Morse's task book gives the records as 14 threats with a battery and 8 without a battery.

Did Fleck claim to have invented a new theme? That would seem strange, given the number of earlier examples. In The Problemist I recently quoted a Fleck which Lilian Baird published in 1891, when she was 9 years old.

(4) Posted by Hauke Reddmann [Tuesday, Sep 17, 2019 09:40]

Now we *really* need a reference pointing to an article of Fleck
on the matter.

(5) Posted by seetharaman kalyan [Tuesday, Sep 17, 2019 16:03]

Fleck with battery is easy to compose (though difficult to have good key) so it is not usually considered special.

(6) Posted by Jacques Rotenberg [Tuesday, Sep 17, 2019 20:22]

Easy ?

Mikael Gronross
Mat 1980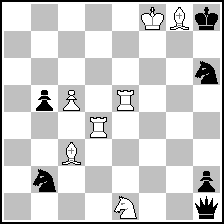 (= 7+6 )



2#

1.Re3! [2.R~‡]
1…Sa4 2.R×a4‡
1…b4 2.R×b4‡
1…Sc4 2.R×c4‡
1…Sd1 2.R×d1‡
1…Q×e1 2.Rd2‡
1…Sd3 2.Rd×d3‡
1…Sh~ 2.Rh4‡
1…Qg2,Qg1,Sg4!? 2.R(×)g4‡
1…Qf3+,Qf1+ 2.Rf4‡
1…Qe4 2.Rd×e4‡
1…Qd5 2.R×d5‡
1…Qc6 2.Rd6‡
1…Qb7 2.Rd7‡
1…Qa8+ 2.Rd8‡

Fleck with 14 threats
complete cross of the rook
complete diagonal of the queen
excellent key
no dual (of course)
13 pieces

---
No more posts
MatPlus.Net

Forum

General

Fleck with battery