(1) Posted by Michael McDowell [Wednesday, Feb 28, 2007 18:08]
Who is the composer?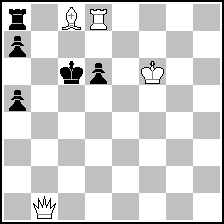 (= 4+5 )




Mate in 3

1.Ba6 (>2.Qb5+, Qc1+, Qc2+)

1...Kc5 2.Qb5+ Kd4 3.Qe5
1...Kc7 2.Qb7+ Kxd8 3.Qe7
1...Kd5 2.Qd3+ Kc5 3.Qxd6
1...Rxd8 2.Qb5+ Kc7 3.Qb7

A nice little Bohemian.

This problem is given in the "Batsford Chess Encyclopaedia" by Nathan Divinsky (published 1992) as a representative example of the work of ....wait for it.... Comins Mansfield!
No source is given, just the year 1924.
We know that Mansfield composed at least four three-movers, but Barry Barnes was never able to authenticate this one when compiling his "Complete Mansfield". Mansfield did not record the problem in his scrapbooks.

Does anyone know the identity of the real composer?

(2) Posted by Vlaicu Crisan [Thursday, Apr 16, 2020 12:16]

Winchloe database indicates the following source: Kenneth S. Howard, Commendation, The Weekly Westminster 1924.

(3) Posted by Michael McDowell [Thursday, Apr 16, 2020 12:47]

Thank you Vlaicu. It was worth waiting 13 years for that!

Brian Stephenson and myself collared the late Nathan Divinsky at the Kasparov v Short match in 1993 and asked him for his "Mansfield" source, but he just said he couldn't remember.

His Encyclopaedia leaves a lot to be desired...

(4) Posted by Vitaly Medintsev [Thursday, Apr 16, 2020 13:43]
https://www.yacpdb.org/#113613
---
No more posts
MatPlus.Net

Forum

General

Who is the composer?