(1) Posted by Hauke Reddmann [Friday, Apr 10, 2020 16:45]
King Nowotny

The Ke1 politely declined, he has his underlings
for sacrifices :-) But still, I could at least
think of...

- Rex multiplex with capture
- Circe rex inclusive
- Non-royal K
- Madrasi: nowotny'd pieces are paralyzed and
can't capture him but still can paralyze others
(but without capture, it ain't a proper Nowotny)
- Sideways pawn: never heard of before but I
bet it's invented (ditto)

Especially in the first case I could think of much
lulz, e.g. one king running into mate and Black
mating the other.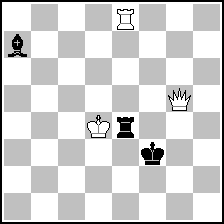 (= 3+3 )



Untested sketch - Circe RI #2 - 1.Ke3+ 2.Ke2/f2#

(2) Posted by Siegfried Hornecker [Friday, Apr 10, 2020 18:13]; edited by Siegfried Hornecker [20-04-10]

I am probably destroying your composition: 1.Ke3+ Rxe3 2.Kf2+ Ke4!
You need to guard e4, as Re8 does not guard it.

(Proposal: +wPd3?)

Also possible dual: Qg4 mate. So you might want to find a more working schema. (By the way, "as is" Re1-e4+ must have been the last move.)

(3) Posted by Hauke Reddmann [Friday, Apr 10, 2020 22:39]

You can't destroy what never existed :-)
It was only a demo.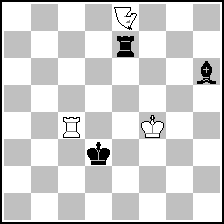 (= 3+3 )



Better?

(4) Posted by Joost de Heer [Saturday, Apr 11, 2020 07:38]; edited by Joost de Heer [20-04-11]

Not really. Ne8 doesn't guard c4. But wSe8, +wPb3 is correct.

(5) Posted by Hauke Reddmann [Saturday, Apr 11, 2020 08:44]

Stupidity is making the same error twice :-)
(rams head against wall)(wishes some more
fairy brain from the easter bunny)

Addendum. I could also think of a Schlagschach
reason for a Nowotny, although this would be
very paradox.

(6) Posted by seetharaman kalyan [Saturday, Apr 11, 2020 10:20]

Nice idea Hauke, probably new theme.

---
No more posts
MatPlus.Net

Forum

General

King Nowotny