(1) Posted by Vitaly Medintsev [Tuesday, Dec 17, 2013 21:59]; edited by Vitaly Medintsev [13-12-17]
Quick Composing TT-101 (S#2-6) C. 15-01-2014

SuperProblem http://superproblem.ru/index-en.html announces a quick composing thematic tourney for selfmates in 2-6 moves entitled "Stop the Black King"
Theme: In the threat, the black king moves once or several times. Defending, a black piece occupies any square the black king was moving to in the threat. It is not necessary to use a blocking effect in variantions (see an example below). At least two thematic variations are required.
Judge: Michael Barth.
Closing date: 15 January 2014
Entries should be sent to the director of quick composing tourneys Aleksey Oganesjan via e-mail: alex_rox@mail.ru
All received problems will be presented to the judge in anonimous form.

Udo Degener & Michael Barth
Schach 2011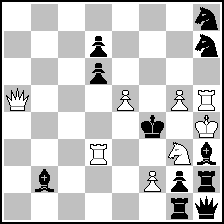 (= 8+11 )



S#3

1.Qd5! (2.Qf3+ Kxe5 3.Qf5+ Bxf5 #)
1...Bxe5 2.Rd4+ Bxd4 3.Qf5+ Bxf5 #
1...dxe5] 2.Qxd7 (3.Qg4+, Qf5+)
(1...Sxg5 2.Qe4+ Sxe4 3.Rf5+ Bxf5 #) - non thematic variant

(2) Posted by Sven Hendrik Lossin [Wednesday, Jan 22, 2014 09:33]

Although the date is due: For a very good example see PDB P1188265.

(3) Posted by Vitaly Medintsev [Wednesday, Jan 22, 2014 17:11]

Thanks, Sven!
Good selfmate with black battery creations and reciprocal change of white 2/3 moves!

(4) Posted by Sven Hendrik Lossin [Wednesday, Jan 22, 2014 20:23]

Yes, indeed! I found that one when I read Sickingers book. An author who is always able to find elegant displays of classical and modern ideas.

---
No more posts
MatPlus.Net

Forum

Competitions

Quick Composing TT-101 (S#2-6) C. 15-01-2014