(1) Posted by Steven Dowd [Wednesday, Apr 1, 2009 23:25]
Reflexmate pawn minimal

Does anyone know of a reflexmate, pawn minimal for white?

Thanks. I have seen a queen minimal r# but not a pawn.

(2) Posted by Frank Richter [Thursday, Apr 2, 2009 11:03]

Here are two examples:

Zvonimir Hernitz
Bilten 1962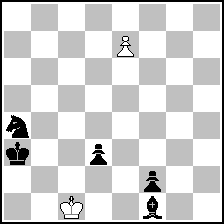 (= 2+5 )



r#2

1.e8R! (2.Te1 fxe1Q#) Be2/d2+ 2.Rb1 f1Q,R/d1Q#

Helmut Rössler
feenschach 1975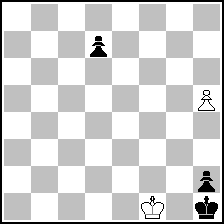 (= 2+3 )



r#5

1.h6! d6 2.h7 d5 3.h8R d4 4.Rg8 d3 5.Rg1+ hg1Q#
1.- d5 2.h7 d4 3.h8R d3 4.Rf8 d2 5.Rf2 d1Q#

(3) Posted by Steven Dowd [Friday, Apr 3, 2009 16:49]

Yes I had re-composed the Roesseler (I have been wanting to do minimals with Chumakov theme, this seemed like a possibilty outside of the h# to show it, once the rook is a block, once it is captured) but a better composer beat me to it before there was even a Chumakov theme).

Thanks to Frank and Guy for sparing me the embarrassment.

The other example is quite elegant.

(4) Posted by seetharaman kalyan [Saturday, Aug 21, 2010 13:25]

N.Shankarram, who had just started composing then, composed this wonderful problem for the 2nd WCCT. Unfortunately we didn't enter it and chose some other entries. I still regret underrating it then.

WKh1, WPb3; BKh3, Bph2.
(series reflexstalemate 6)

(a) Diagram
5.b8B (b8Q?) 6.Bg3, Kxg3=

(b) b3 to a4
4.a8R (a8 Q) 5.Rg8 6.Rg3 Kxg3=

---
No more posts
MatPlus.Net

Forum

General

Reflexmate pawn minimal