(1) Posted by Hauke Reddmann [Thursday, Oct 10, 2013 16:22]
In need of an exact source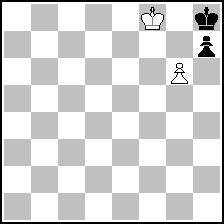 (= 2+2 )


(Circe Rex Inc, W->), Shortest Help Valladao (with O-O-O).*

Accidentally I found this problem'o'mine** by egogoogling :-),
source is "König und Turm" 12/2006 but I'd like to know
the "running number" of the problem.

Hauke

* Solution is straightforward.
** I didn't knew that I composed such harebrained stuff too. Evidently I
just wanted to be included in the "Vielväterproblem" and failed epically. Sorry :-)

(2) Posted by Michal Dragoun [Thursday, Oct 10, 2013 20:39]

U521, König & Turm 21, December 2006, page 119.

(3) Posted by Hauke Reddmann [Friday, Oct 11, 2013 13:16]

521, THX!

Hauke

P.S. In case somebody still desperately needs the solution, it's
1.g7 Kxg7 (g2) 2.g4 Kxf8 (e1) 3.g5 h5 4.gxh6 iV (h7) Kg7 5.hxg7 (e8) Kf8
6.gxf8T+ (e8) Kxf8 (a1) 7.O-O-O.

(4) Posted by Siegfried Hornecker [Sunday, Oct 13, 2013 02:54]; edited by Siegfried Hornecker [13-10-13]

1.g:h7 Kg7/Kg8 2.h8R K:f8 (e1) 3.R:f8 (e8) K:f8 (a1) 4.O-O-O

Why does that not work?

EDIT: Oops, it is a help Valladao, not help O-O-O. Nevermind!

---
No more posts
MatPlus.Net

Forum

Fairies

In need of an exact source