(1) Posted by Siegfried Hornecker [Sunday, May 10, 2009 04:26]; edited by Siegfried Hornecker [09-05-10]
The future of chesskind in space

While the United States National Aeronautics and Space Administration (NASA) and Chess Federation (USCF) started a chessgame between earth and space last year (see the actual position on USCF website at http://www.uschess.org/content/blogcategory/198/475/ and also see infos on http://www.chessbase.com/newsdetail.asp?newsid=4875), a task that Vitaly Sevastianov had completed much earlier (see http://www.geocities.com/siliconvalley/lab/7378/sevast.txt), it was even more earlier that a chess problem went into space.

I remember it was on a Soviet mission, but does anyone remember the details on it or give me a weblink, because Google doesn't really help here?

(not sure but it may have been the famous Platov study)

(2) Posted by Kevin Begley [Sunday, May 10, 2009 14:25]; edited by Kevin Begley [09-05-10]

I can't wait to land on Mars Circe :-)

(3) Posted by Steven Dowd [Sunday, May 10, 2009 16:40]

Aren't you just reborn back on earth when you land there?

(4) Posted by Joose Norri [Sunday, May 10, 2009 23:39]

The first game between earth and space was played already in the sixties (or very latest early seventies). It was of course a Soviet mission; I have to browse through all of Schach-Echo to find it, unless it was one of the years that I have the index of.

(5) Posted by Joose Norri [Sunday, May 10, 2009 23:40]

Oh sorry Siegfried, you mentioned it...

(6) Posted by Siegfried Hornecker [Tuesday, Sep 15, 2009 04:40]; edited by Siegfried Hornecker [09-09-16]

If my memory is correct that came up when reading Wikipedia, it must have been Nikolaev on June 1 1970, Soyuz-9. It was some threemover, I think. Anyone can look for this in cyrillic since Russian was probably the language I found it in.
It was on a site with his obituary then.

Thanks,
Siegfried

-----

EDIT: Nikolaev was the one with the first chess game in space. But I'm still sure it was a Soyuz mission. There was a photo on that site, I search, of things that cosmonaut took into space, among it a threemover, obviously cut off from a newspaper or book (newspaper is more probable). Vitaly Sevastianov was chess president and cosmonaut, as Bill Wall tells on his website. Was he the one?

-----

EDIT:
I found it!!!!!!!!!!!!

http://www.selivanov.ru/newss/?act=show_news&id=109

It was this problem by Valentin Rudenko! And it is my mistake: It was a birthday article for Rudenko, not an obituary for Nikolaev! Now I must criticize Andrey Selivanov for either not reading this topic or not remembering his article. :-)

Was it the first in space? I don't know but I assume it.

Translation:

QUOTE
And as an unusual gift - a photo from the Astronautics Museum in Cheboksary where there is your problem which has visited Space onboard a spaceship of "Sojuz-9" (date of start and returning to the Earth 1.06-19.06.1970 years) together with cosmonauts Adrianom Nikolaevym and Vitaly Sevastyanov.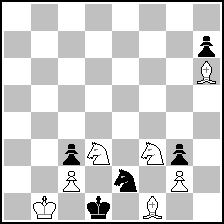 (= 7+5 )



Mate in three moves
Valentin Rudenko
Suomen Shakki 1957, 1st prize

So let us celebrate the 40th anniversary of a chess composition in space! On 1st June 1970, history was written! Nikolaev and Sevastianov are heroes not only of space but also of chess! In a hundred years, it will be written: This was the first step!

Or to quote the computer game Alpha Centauri:

QUOTE
No longer mere earthbeings and planetbeings are we, but bright children of the stars!
(7) Posted by Siegfried Hornecker [Monday, Apr 12, 2010 22:26]

The sad news only reached me today that Vitali Ivanovich Sevastianov has died on April 5th 2010. Let the 40th anniversary celebration also be a memoriam of him then and let us thank him and Nikolaev, who died on 3rd July 2004, for being the first to popularise chess in space.

They were heroes.

(8) Posted by Siegfried Hornecker [Wednesday, May 15, 2013 17:29]

While this is offtopic, it nonetheless strikes me as a remarkable achievement that the first music video in space exists now, and fittingly it was done by a cover version of David Bowie's Space Oddity sung by the Canadian astronaut superstar Chris Austin Hadfield.

http://www.youtube.com/watch?v=KaOC9danxNo

There is only the regret that future generations for whom all those things will be natural might never have this feeling of accomplishment, of proud, that those have who experienced the pioneer works.

In a hundred years, it might be hard to imagine that this ever was something special. But for our generation, it is, just like the first man in space or the moon landing was - or the Soyuz mission mentioned above.

(9) Posted by seetharaman kalyan [Wednesday, May 15, 2013 20:28]; edited by seetharaman kalyan [13-05-15]

Who will be first to compose a chess problem in space and when ?

(10) Posted by Olaf Jenkner [Wednesday, May 15, 2013 22:59]

Maybe Siegfried in 2040, but he has to lose some weight ...

(11) Posted by Hauke Reddmann [Thursday, May 16, 2013 13:18]

"Ground Control to Major Tom*, eh, Hauke, there is a malfunction,
you have oxygen left for only ten minutes. Any last words?"
"Nevermind, that's more than enough time for composing a new 2#."

Hauke (* who has the same birthday as David Bowie)

---
No more posts
MatPlus.Net

Forum

Promenade

The future of chesskind in space