Page: [Previous] [Next] 1 2
(21) Posted by Rewan Demontay (Real Name: James Malcom) [Sunday, Jun 2, 2019 14:46]; edited by Rewan Demontay (Real Name: James Malcom) [19-06-03]

I've also at last found a sequencene of 12 discovered cross-checks!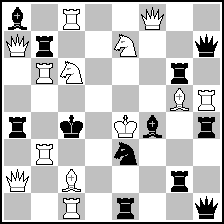 (= 13+12 )





1. Bb1+ Nc2+ 2. Re3+ Kc5+ 3. Nb4+ Rc7+ 4. Rb7+ Rb6+ 5. Ng6+ Bd6+ 6. Bf4+ Rg5+

I highly doubt that 13 is possible at all.

EDIT: Here's a much more compact one.


(= 12+13 )
(22) Posted by Rewan Demontay (Real Name: James Malcom) [Thursday, Jun 27, 2019 01:42]

Just to keep you updated with my work Hauke! =D

*********

Cross-checks-A sequence of checks without any captures.

Awhile ago, I finally found a sequencene of 13 discovered cross-checks in this legal position. I think 14 to be impossible.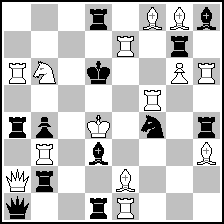 (= 14+12 )




I'm leaving it to you to find the sequence

Also awhile ago, I finally found a sequence of 16 cross-checks with normal checks allowed in a legal position. This took my FOREVER to find in a legal position!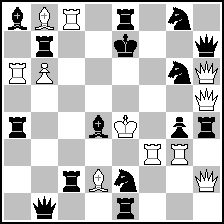 (= 11+15 )




Once more, I shall leave it to you find the sequence.

I also assure you that it is a LEGAL position even though only one black piece ia missing.

Here's a short PG: 1. a4 b5 2. c4 d5 3. axb5 dxc4 4. g4 h5 5. f4 hxg4 6. Nh3 g5 7. f5 e5 8. Nf4 exf4 9. Bg2 g3 10. Bd5 f3 11. Be6 fxe6 12. Nc3 e5 13. Nd5 g4 14. Nf4 exf4

---
No more posts
Page: [Previous] [Next] 1 2

MatPlus.Net

Forum

General

Has the record for most mutual checks been beaten yet since 2013?