(1) Posted by Hauke Reddmann [Sunday, Dec 31, 2017 17:18]
Silly Silvester problem

Change the game starting position. But only one change!
The following changes are legit, as they are used in twinning:
minus figure
move figure
move figure, drop figure at destination
swap figures
recolor figure
(but no zero position :-)

Anyway, the result should be a correct h#2 (since White
has the move, make it a color-swapped h#2). "Correct"
does not mean "legal", as almost all (interesting) changes lead
to an illegal position, so don't bother with that.

Hauke

(2) Posted by Theodoros Giakatis [Monday, Jan 1, 2018 21:10]; edited by Theodoros Giakatis [18-01-01]

Happy New Year!!
If I understand the definition correctly, a solution can be:
Changing the position between the White and Black Knights on g1 and g8 can lead to the following
1.Ne7 Qe7 2.g3(g4) Nf3 #.
If someone has played some Caro-Kann games it's easy for him to imagine this image of mate.

Theo

(3) Posted by Kostas Prentos [Monday, Jan 1, 2018 22:35]

Theo,

I believe the intent is to reach a position with a unique helpmate, without duals. Otherwise, almost any twin would allow the typical helpmate 1.f3(f4) e6(e5) 2.g4 Qh4#.

(4) Posted by Peter Wong [Monday, Jan 1, 2018 23:17]

Yes, the twinning must remove the Fool's mate or make it dual-free. Anyway, here's a C+ one.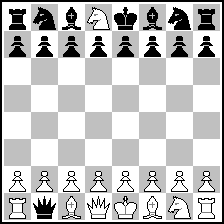 (= 16+16 )



H#2
Duplex

---
No more posts
MatPlus.Net

Forum

Promenade

Silly Silvester problem