(1) Posted by Marjan Kovačević [Saturday, Apr 2, 2016 20:12]
In Memoriam: GM Valentin Fedorovich Rudenko

One of the greatest chess composers of our era, Valentin Fedorovich Rudenko, died on April 2nd 2016 - reported the Chess Federation of Ukraine and the Commission of Chess Composition of Ukraine.
Valentin Fedorovich was born February 19th 1938. He was an International Grandmaster and International Judge of Chess Composition, distinguished Master of Sports of Ukraine, but also highly successful in his profession, as a leading constructor of satellites. As reported by Chess Federation, GM Rudenko was responsible for construction of more than 60 satellites of scientific purposes, and was a member of Presidium of the Soviet Federation of Astronautics.
Such extraordinary constructive skills may be recognized by all who ever studied Rudenko's mastery in chess composition.
Our deepest condolences to his family and the whole Ukrainian problem chess community.

(2) Posted by Darko Šaljić [Saturday, Apr 2, 2016 20:37]

Very sad news. Rudenko will remain as one of the greatest names in problem chess world and out of it too. His book is among the top three that I know of. I'm very,very sorry.

(3) Posted by seetharaman kalyan [Saturday, Apr 2, 2016 21:16]

Very sad.... Such great talent. I wish someone will publish an English translation of his book (the first part mainly).

(4) Posted by shankar ram [Sunday, Apr 3, 2016 07:11]; edited by shankar ram [16-04-03]

Great Man...
Great Problems...

One of my favourites:

V.Rudenko, 1st prize, "64", 1972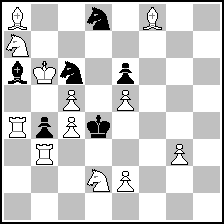 (= 12+6 )



#3
1.e4!(zz)
1...Sc~ 2.Sf3+(A), Kxc4 3.Raxb4#(C)
1...B~ 2.Sb5+(B), Ke5 3.Bg7#(D)
1...Sxe5! 2.Bg7(D) zz
2...B~/Bxc4! 2.Sb5(B)/Sf3(A)#
1...Bxc4! 2.Raxb4(C) zz
2...Sc~/Sxe5! 2.Sf3(A)/Sb5(B)#

Two harmonious and interlinked systems of continued Black Correction with BK flights, self blocks, W pins, waiting moves and pin mates.

Now see how the moves are intertwined:

- W2 after random B1 of S/B is:
-- W3 after random B2 of S/B
-- W3 after correction B2 of B/S

- W2 after correction B1 of S/B on e5/c4 is:
-- W3 after random B1 of B/S and BK flight to e5/c4

- W3 after random/correction B2 by S/B is:
-- W3 after random/correction B2 by B/S => reciprocal correction

I first saw this wonderful work in "Shakmatnaya Kompozitsiya" (Fizkultura i Sport, 1978) and have set up and played through it many times...

(5) Posted by shankar ram [Sunday, Apr 3, 2016 07:59]

Nice photo here: http://musicayajedrezdediez.com/imagenes/2012-05-20f2.jpg

(6) Posted by Siegfried Hornecker [Tuesday, Apr 5, 2016 11:08]; edited by Siegfried Hornecker [16-04-25]

I would love to see the exhibit of his 1957 Suomen Shakki study (that was aboard the mission SOYUZ 9) in the museum in Cheboksary. Can someone provide a photo?

EDIT, 25 April: Thanks, Dmitri Turevski. It is right, it was in that article all along. I completely forgot about it.

(7) Posted by Dmitri Turevski [Tuesday, Apr 5, 2016 11:55]

@Siegfried
http://www.selivanov.ru/newss/?act=show_news&id=109

(8) Posted by Aleksey Oganesjan [Tuesday, Apr 5, 2016 12:06]; edited by Aleksey Oganesjan [16-04-05]

Siegfried!

I add something to Dmitri's link above.
It is the Space Museum of Soviet cosmonaut No 3 - Andriyan Nikolaev. This Museum is in Chuvash village Shorshely (but not in Cheboksary!), where Nikolaev was born.
Nikolaev really have took the photograph with this problem aboard the "SOYUZ 9" in 1970. And yes, this problem is http://www.yacpdb.org/#57227.

You can see a "3D virtual tour" in this Museum here: http://panogu.ru/kosmomuzey/

(9) Posted by Harry Fougiaxis [Tuesday, Apr 5, 2016 12:19]

To be compared with Uri Avner's 1st Place in the Israel-Switzerland 1959 match.

http://www.yacpdb.org/#105391

Two great minds, in their teens, along the very same route...

Valentin was 19 in 1957 and Uri was 18 in 1959.

---
No more posts
MatPlus.Net

Forum

General

In Memoriam: GM Valentin Fedorovich Rudenko