(1) Posted by Jacques Rotenberg [Tuesday, Jul 26, 2011 09:22]
Simple pleasures

A simple and nice "classical" 2# :

K.A.K. Larsen
Good Companion 1921
1st Pr.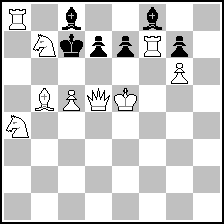 (= 9+6 )


2#

1…e6 2.Qc6‡
1…d6+ 2.c×d6‡

1.Sd8! block
1…e6 2.S×e6‡
1…d6+ 2.Q×d6‡
1…K×d8,Ba6 2.Q×d7‡

Flight giving key
Mutate
changed half-pin mates
all in all 5 mates after self-pins
almost complete black homebase
some nice tries :

1.c6? block
1…d×c6 2.Q×c6‡
but 1…e6! (2.Qc6??)

1.Ke4? block
but 1…B×b7! (2.Q×d7‡??)

1.Qe4? block
but 1…B×b7!

1.Ba6? block
1…B×b7 2.Q×b7‡
but 1…e6!

1.Sd6? [2.R×c8‡]
1…Ba6 2.Se8‡
1…Kd8 2.R×c8‡
but 1…e×d6+!

(2) Posted by Kevin Begley [Tuesday, Jul 26, 2011 09:33]; edited by Kevin Begley [11-07-26]

I always enjoy seeing these "simple pleasures."
I often wonder: what was (will be?) the last "classical" problem to earn a 1st prize?

(3) Posted by Jacques Rotenberg [Tuesday, Jul 26, 2011 11:13]; edited by Jacques Rotenberg [11-07-26]

There is here yet a small detail...not very "classical"...
The Sa4 has no use in the solution : take it out and the solution is the same !
Is it a defect ? perhaps ... but very very small, I think.

(4) Posted by Siegfried Hornecker [Tuesday, Jul 26, 2011 15:58]

You would lose the try 1.c6 then.

(5) Posted by Jacques Rotenberg [Tuesday, Jul 26, 2011 17:56]

You would lose the mutate, mainly

---
No more posts
MatPlus.Net

Forum

Twomovers

Simple pleasures